Susan Jensen Named NASB Secondary School Principal of the Year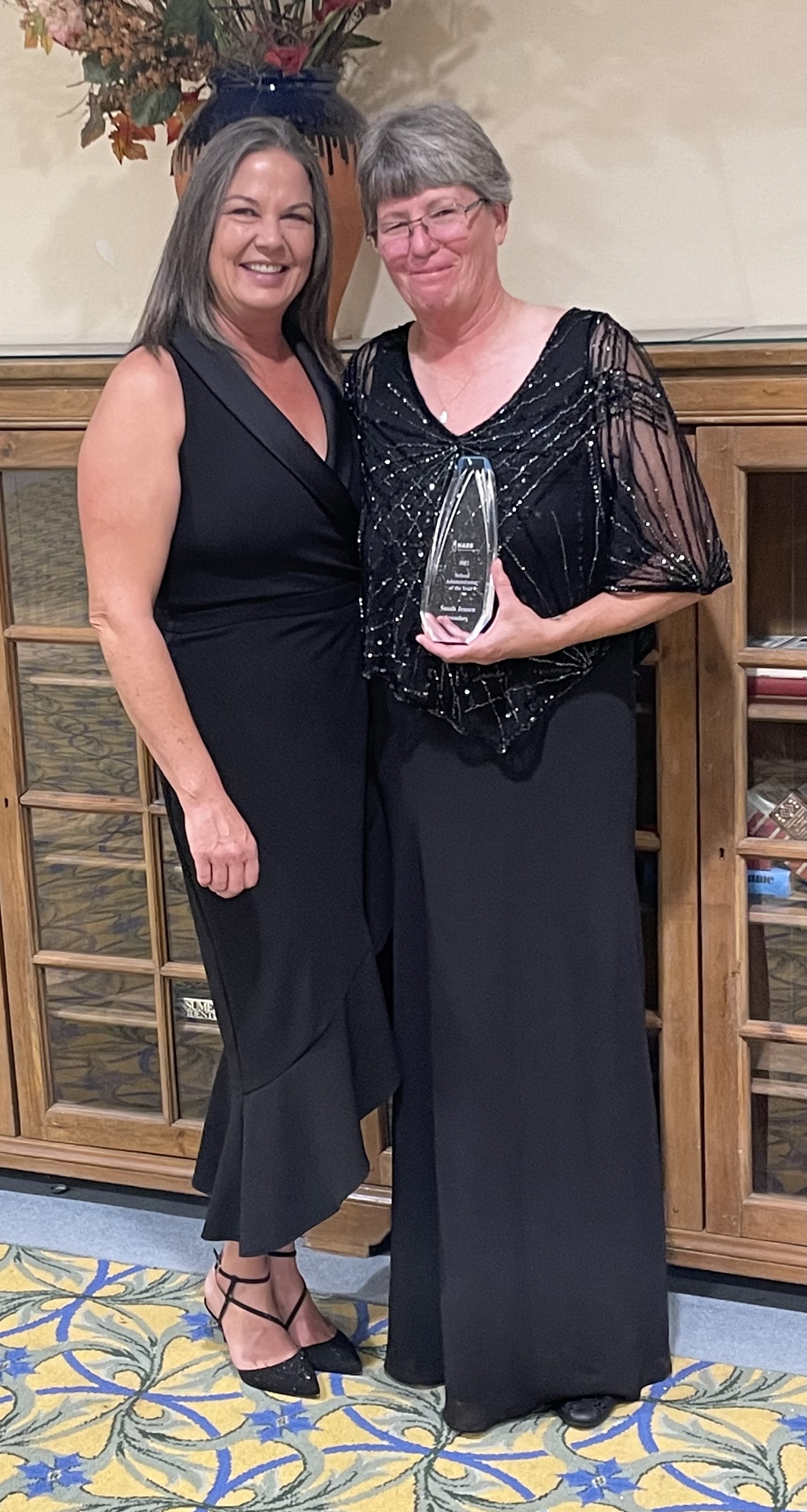 ---
The Nevada Association of School Boards met during the weekend of November 10-13 and among other business items, recognized our own Susan Jensen as the secondary school principal of the year. Following is the nomination submitted on her behalf.
The White Pine County School District wishes to nominate Susan Jensen, principal of White Pine Middle School, as the NASB School Administrator of the Year.
Ms. Jensen is entering her seventh year as the WPMS principal and has spent her entire career educating, loving, serving, and occasionally kicking in the butt WPMS students. She was a science, social studies, and special education teacher prior to assuming her current role. In addition, she coached softball, basketball, and volleyball at the middle school and high school levels.
Ms. Jensen led the school through draconian budget cuts in 2016. The cuts left her a skeleton crew for a staff. Nevertheless, she innovated with those few people left to create unique and effective instructional models. For a period of time, the staff utilized the "two touch" method, where students received Tier 1 instruction in the morning and then had choice in the afternoon depending upon their level of mastery with the morning's content. Those who had shown mastery had options. Those who did not return for Tier 2 and Tier 3 intervention with their classroom teachers. This model led to improved mastery of core learning, preparing students for high school even if they entered middle school below grade level.
Ms. Jensen has advocated for increased college and career ready programs in recent years as funding has increased. Her eighth graders have the opportunity to participate in high school level career and technical education programs, theater, and music including a Jam Band that regularly performs at assemblies. Robotics students from WPMS recently competed in the World Competition and came home with multiple awards.
In addition, she has crafted an accelerated math initiative where students who are currently in eighth grade are already taking Algebra 2. Preliminary results of the state assessment reveal that, as a whole, students experienced remarkable academic growth. And that was during a pandemic!
The very challenging 2020-2021 school year saw WPMS students grow in math proficiency by nearly 9% and ELA proficiency by more than 8%. Middle schools across the state of Nevada saw their proficiency levels decline and understandably so given the difficulty of the year. But Ms. Jensen and her teachers continued to focus on innovative Tier 1 instructional practices and students reaped the benefits.
But under her leadership, the school has focused on social and emotional learning as well. Students have organized a Kindness Crew which performs acts of service. She has helped develop the district's World Class Relationships Framework, which outlines Tier 1 social and emotional learning, restorative practices, and disciplinary and communication procedures.
Ms. Jensen embodies continuous learning. Her yearly NEPF evaluations with the superintendent do not shy away from where growth is needed. And she puts maximum effort into learning, practicing, self-assessing, and growing so that she can be the principal her students want and need her to be.
Ms. Jensen is an exemplary principal and is deserving of this recognition.